Why Join?
Numerous benefits are available to dues-paying members. All KPATA members have access to:
KPATA Updates which are our flagship publications with articles on best practice in the field, research, information for stakeholders on programs using the PAT curriculum.
KPATA newsletter designed to share information about happenings in the state of Kansas in parent education.
State Convention registration information.
Link to National conventions. Information about scholarship opportunities available only to members.
Information about job postings available only to members.
Information on legislation that would affect programs, families, and children in Kansas.Links to parent education resources.
e-group participation.
Opportunity to share information on program resources with others in the field.
Who can join?
KPATA is an organization for individuals interested in supporting the work of the organization. Parents, grandparents, current and past participants, in home visitation and early childhood programs in Kansas, as well as parent educators, early childhood educators, and home visitors are all encouraged to join.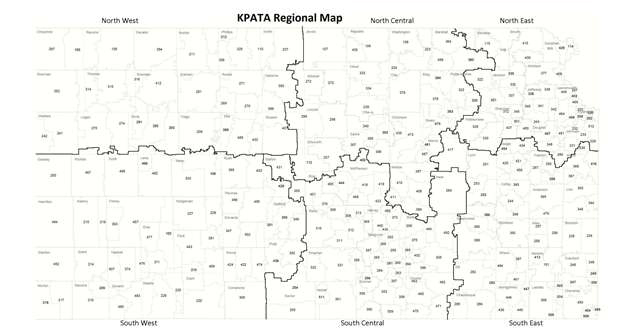 Click the button to the right for a larger view of the Regional Map
KPATA Membership Form
1. Download and fill out the form below.
2. Submit your payment in mail to:
KPATA c/o Callie Peace, 22795 W. 255th St, Paola, KS 66071.
KPATA Membership Form
Please complete the form below. Submit payment online via Pay Pal or mail to: KPATA, 22795 W. 255th St, Paola, KS 66071.
Membership Directions
 1.  Please fill out the membership form to the left OR you may choose to fill out the PDF document and either mail it or email it to KPATA.
2.  AFTER the form is submitted online or filled out, you may choose to pay online with PayPal or mail in your payment.
*There is a $1 service charge for 1 year membership and a $1.75 service charge for 2 year membership when using PayPal.