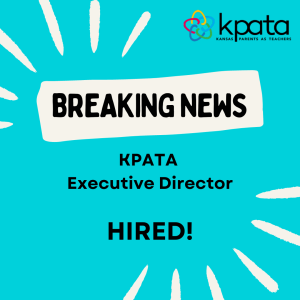 Kansas Parents as Teachers Association is pleased to announce the selection of Hilary Koehn as its new Executive Director effective October 16, 2023.
Hilary has served as KPATA's Interim Executive Director following the resignation of Callie Hoffman, who led KPATA as Executive Director from 2015 until Spring 2023.
In 2020 Hilary joined the KPATA staff as Quality Implementation Director. When KPATA's PAT Affiliate formed she anchored two Bright Futures roles for KPATA: Quality Implementation Director and Affiliate Coordinator. Previously she held leadership roles with Wichita Public Schools in their PAT program and in their early childhood department. Hilary was a founding partner of an early childhood consultation service meeting the needs of local, state, and national early education organizations. She is also a former member of the KPATA Board of Directors serving during her tenure with Wichita Public Schools.
Hilary resides in Wichita with her husband and two teenage children. Her active life is filled with children's sporting events, supporting her family and
spending time outdoors. She volunteers as the high school basketball team's Team Mom organizing team dinners and fundraisers.
"I am passionate about this work that allows me to be an influential part of supporting and advocating for PAT programs across the state of Kansas," Hilary states. "I value conversations with program staff and parent educators, KPATA board members, state level committees and agencies, and partners as each one of them provides an opportunity to reflect on our current work and strengthen our mission to consistently be a powerful voice for children and families in Kansas!"
Please welcome Hilary Koehn as she moves forward in her role as KPATA Executive Director.
Janet Cody
KPATA President