Welcome to Kansas Parents as Teachers Association (KPATA). We are proud to partner with Behavior Checker to help parents have the tools and confidence they need to parent with a positive Mind S.E.T.® We love that Behavior Checker provides access to immediate advice to handle overwhelming behaviors. While having this information is crucial, we know that implementing it can be hard. This is where KPATA is here to help. We work with home visiting programs across the country that are here to support your family. If you have a child in your home under kindergarten entry age, there may be a FREE program in your area that we can help connect you with. Home visiting includes developmental activities to share with your child; developmental, hearing, vision and health screenings; group connections; and the support to find resources that meet the needs and goals of your family.
What's New with Behavior Checker?
Please join us for a KPATA Lunch & Learn on Behavior Checker! 
September 19th, 2023
12:00pm – 1:00pm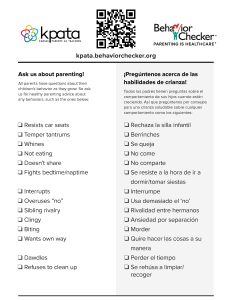 Purchase your official Behavior Checker T-Shirt Here!
We want to help you find the program that is right for you!
Email: hkoehn@kpata.org
Phone: 316-218-8975